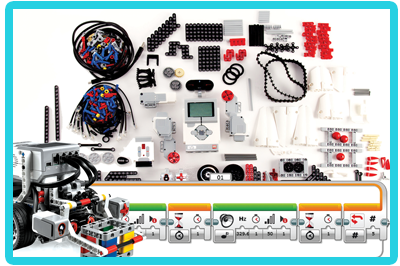 Skills: Computer Programming, Designing
Combining the versatility of the LEGO building system with the most advanced technology developed for children, unleash the creative powers of the new EV3 to create and command robots that walk, talk, think and do anything you can imagine. Follow 3D building instructions to create TRACK3R, R3PTAR, SPIK3R, EV3RSTORM and GRIPP3R and bring them to life with an intuitive and icon-based programming interface. Grab the enclosed remote control and take on challenging ready-made missions and download the app to command your robot using a smart device. This class ignites engagement and energizes learning through real-life problem solving using Computer Science, Science, Technology, Engineering and Math skills.
With LEGO® MINDSTORMS® Education EV3 hands-on, minds-on approach the only challenge you'll have is getting your students to leave our classroom! The LEGO MINDSTORMS EV3 robot revolution has begun!

 Please click here to go to the registration page.