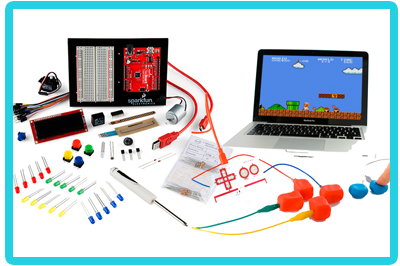 Skills: Computer Programming, Electrical Engineering, Logic Circuiting 
Makey Circuits Engineering (Grade 4th+)
Using interactive electronics, students dive into the world of electrical circuits to learn about electricity, conductors and insulators. Exciting student built projects include fabricating unique computer controllers using a Arduino Circuit Board, alligator wires, vegetables, play dough, foil, lead, electrical wiring and more. In Makey Circuits Engineering, students learn electrical engineering and computer programming through experimentation and invention.
SparkFun Engineering and Programming (Grade 6th+)
Ignite your inner inventor with SparkFun! This course of interactive electronics will let you experiment with embedded systems, physical computing and programming. You'll be introduced to the world of prototyping circuits using resistors, potentiometers, photoresistors, flex sensors, servos and piezoelectric buzzers while exploring the programming concepts necessary to make motors spin, LED's blink, and music play, all using an Arduino board connected to your computer. It's time to ignite the world of physical computing!

Please click here to go to the registration page.