According to PreschoolEducation.com, music and dancing are inside each child. "They (children) aren't self-conscious about their ability and most are eager to let their voices roar! states The Program for Early Parent Support, Pugent Sound region, " Preschoolers enjoy singing just to be singing."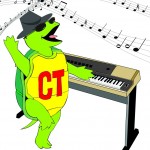 That is good news for those of us who are not gifted in these areas. It tells us that all we need to do is encourage, not "teach" music and movement to our children.
For fun music channels, check out this play list on Pandora, or this one on Last.FM.
The Hooplakidz.com youtube channel filled with music for the young and young at heart. Their website offers parents a tool to build a 'playlist' of activities, based on its content, that you feel is appropriate for your child.