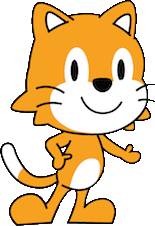 As Warren Buckleitner says below, "Scratch puts the power at your fingertips." There are other ways to introduce your preschooler to the Scratch platform.
Start by reading the Scratch Foundation blog post by Saskia Leggett "Creating Together." In this article, the author suggests how families can facilitate collaboration when coding with Scratch. You can easily apply the suggestions to learning algorithmic thinking with younger children by learning patterns and sequence with hands-on offline activities. Then, visit the Preschool Language Activities studio (https://scratch.mit.edu/studios/203978/) to use some Scratch based literacy games.
After your child is comfortable with the platform, introduce them to the Scratch Jr App, https://www.scratchjr.org/ , as well as the PBS Kids Scratch Jr app where children can create interactive stories with their favorite characters. http://pbskids.org/learn/scratchjr/ .
Parents who would like guidance on using the Scratch Jr app with their children should read through the activities available on the resources page https://www.scratchjr.org/teach/activities.
Buckleitner Box
DEAR COMPUTER EXPLORERS —
Here's a fact I'm you understand well: few experiences can light up a child's eyes better than MIT's Scratch.
That's because Scratch puts the power at your fingertips. And once you have a taste, you like it.
These snips of color-coded code give the keys to some really big ideas — like loops and recursion. In addition, Scratch connects you to a community of other coders, so you can test the waters of public vs. private content, backing up your work, debugging, asking for help and the thousands of other issues related to making and publishing ideas.
We've had great luck running Scratch camps every summer, and this year has been better than ever, do in part to the addition of five $220 Acer Chromebooks. This hardware/software combination has given our center a 1-2 punch. Now every child has a microphone and camera (eyes and ears) needed to pull in a selfie or a bit of narration. I think Seymour Papert would like the setting we've created in our small town public library.
Of course, the proof is in the pudding. Here's a link to our public Scratch channel: https://scratch.mit.edu/users/mediatechfoundation/