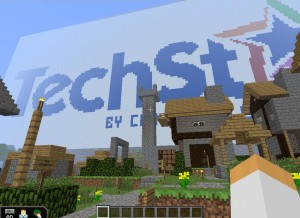 MineCraft is a common household name these days. Kids are playing it at home and parents aren't really aware of what it really is. I would like to take this time to explain to you how and why MineCraft is so much more than just a game. They say knowledge is power, well parents I am about to give you some MineCraft power!
Those of you familiar with our company know that our classes are educational, we always incorporate education and fun into our curriculum. When MineCraft started becoming so popular we wanted to create classes that taught students about some of the major concepts behind MineCraft and give them goals that they needed to achieve during each class. When we first started out we had one MineCraft class which helped teach student social skills, how to work together by pair partnering, and become goal oriented. We teach them how to focus on getting daily tasks done, these tasks include building homes from materials they mine, finding animals and creating animal farms as well as crop farms. We discuss the importance of why we need both farms and we relate MineCraft to real life scenarios.
Since the first class we have added 2 more extremely successful MineCraft classes. The first is MineCraft Basic Training which teaches beginners the basics of MineCraft. They have similar goals as the regular MineCraft class but we go through it with them in steps because this class begins at the 1st grade level. They learn how to build with the different materials available through mining and they have sample builds to follow. They learn how to farm with the help of farmhands, people who give them farming equipment
Finally, we have incorporated coding into our MineCraft Coding class. During this class students work with turtles that they have to use program disks to code to do the work for them. The turtles do ALL the work and if the students don't code them correctly they have to keep at it in order to continue on to the other challenges. What is so amazing about this class is the students really have to think about what their turtles need to do before programming them, so they strategize with their partners, then talk to the teacher before programming. This helps because the students are then going over the coding and programming more than once before actually doing it, I have found this useful as it helps students remember codes that they will use more than once.
One class that is really new and exciting is our Minecraft modding class. I have yet to teach it but I will begin teaching it this summer and I am so excited! This class focuses on critical thinking skills and these 21st century skills are vital for students to excel in the STEM related fields, which require employees have both technical knowledge and creativity! We hope to see your child in this new amazing class this summer!
When you hear MineCraft please think of Computer Explorers and the amazing classes we have that will take your child into a fun a new learning experience like never before! I can honestly say that all of the students I have had have thoroughly enjoyed these classes and have learned something new EVERY. SINGLE. SESSION. Even my students who thought they knew all there was to know J