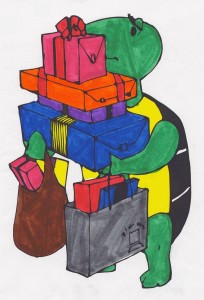 Holiday shopping can be a chore. We spend a lot of time looking at what sorts of fun things are out there for children. We wanted to share some of the the things we found with you.
Ages 2-4
Little People Barn Yard – $19.99
Combine your ipad with your Fisher-Price Little People on the farm.
Ages 3+
HEXBUG Aquabot Jellyfish – $15
Confuse your guppies, with this Aquabot Jellyfish. It features "smart fish technology" and 15 pre-programmed swimming routines that mostly involve up and down.
The Jellyfish has 18 silicone tentacles and a ducted impeller motor (not unlike that used on a jet ski) that allows it to spin and swim as it moves around your tank.
KiwiCrate – $19.99 and up
A subscription service of monthly hands-on activities. The Koala Crate is designed for children ages 3 to 4, and focuses on Art. Kits for older children concentrate on STEM activities. One, 3, 6, and 12 month subscriptions are available
Ages 4+
Lulu Jr.'s Make your own book kits $20 to $30
You write and illustrate your story pages, and then mail the pages to Lulu Jr. in the included prepaid envelope. The printed book includes an "About the Author" feature, complete with your child's photo and a brief biography printed on the back cover. Your child's printed book arrives in the mail 4 to 6 weeks after sending in your story pages. www.Lulujr.com
Illustory Junior– ages 4 and up- Makes a full color, softcover book, perfect for early readers and young writers.
Illustrory– Ages 6 and Up – Makes a full-color hardcover book.
My Comic Book– Ages 8 and Up – Create your very own comic book. Children write and illustrate story pages. Includes a fun and helpful "Comics In Action!" how-to guide
Kidizoom Action Cam – $60+
Like a lower cost GoPro for children, this cube-shaped camera has a 1.4 inch color screen/viewfinder with a speaker that makes it possible to instantly view or edit your videos. The editor includes visual effects and mini-games; plus some animated intros. Features include 128 MB plus a micro SD slot for expansion. The camera charges and transfers information to a computer by way of a USB port. The $60 kit includes a bike mount and a waterproof kit
Ages 6+
Project Mc2 Dolls – $15 to $25
Project Mc2™ is a team of four super-smart and seriously cool girls who use their love of science and their spy skills as they go on missions for secret organization, NOV8™ (that's "innovate"!). Your child can integrate apps and technology to enhance their fun and technical skills.
McKeyla's Lava Light Experiment
Adrienne's Volcano Explosion Experiment
Bryden's Glow Stick Experiment
Camryn's Blueprint Skateboard Experiment
Ages 7+
View- Master Virtual Reality – $30 + expansion packs
View Master meets Google cardboard or Oculus Rift!
View-Master® believes you are not limited by where you stand, but where your mind can take you. Through an easy-to-use and affordable platform, the View-Master® VR viewer works with your compatible smartphone to blend Augmented Reality and Virtual Reality, creating a magical experience that will inspire a lifetime of curiosity and deep exploration. Explore and interact with each virtual world to discover all the surprises that await!