By Warren Buckleitner Ph.D for Computer Explorers
We have a lot of news this week, including a powerful messing app for kids from that little company known as Facebook. We talk about what you need to know to get smart, fast.
And then, there is a first look at a talk Chip Donohue — a very smart guy — about the importance of using technology to improve adult/child interactions.
Messenger Kids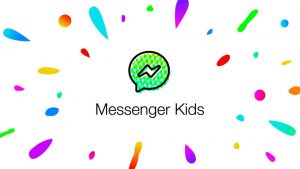 The app opens a new COPPA (Children's Online Privacy and Protection Act) compliant service; and a powerful social pipeline so that younger family members can communicate with others who are on Facebook. In fact, if you currently use a Facebook account, you are already using Messenger Kids, because it it piggybacks on existing Messenger features.
Here's how it works. After you download the app on your child's iOS device (for iOS 8 or newer), you must "authorize this device." If you don't, you can't use the app. This means you must log in using existing Facebook credentials. This does not give your child access to your Facebook account — it merely lets this additional device that could be operated by a child, tap into your Messenger stream. By typing in your user name and password, you also grant the app permission to make the connection. You, as the holder of the account (the person who knows the password) can now grant access to others that you want in your child's network. In this way, the holder of the managing Facebook account holds the keys.
The paranoid won't like Messenger Kids because you are required to grant Facebook, Inc. access to a lot of new information — including your child's communications, any content shared (including videos and pictures), things like high scores on games and device information. In addition your child's name and status will be visible to your other friends who are linked on Messenger accounts. So this app gives Facebook a way to start building a social profile of a child younger than 13, using your permission granting ability. This information can also be use by the "Facebook Family of Companies" who aren't clearly defined. Other interesting points from our testing.
• This is a big app (a 223 MB download).
• It's global — in 33 languages.
• Messages don't disappear and can't be erased (like snapchat) and they also can't be hidden, in case a parent wants to go back through a history.
• No language filters are used. We were able to set up an account for our dog, and have her swear at us.
• There are no ads or in-app purchases presented to the child, and the app is free to download for as many children as you like.
• There's a large set of stickers, GIFs, frames and emojis that can help children express themselves without print.
• The camera icon lets you quickly capture a photo or video, and it is possible to mix in fun AR effects, like masks or hats.
• For children without a data plan, Messenger Kids works over a Wi-Fi connection. No phone number is needed.
• Creating a Messenger Kids account for a child does not create a Facebook account for them.
• Any person with an existing Facebook account can control their child's contact list and can remove contacts at any time. So it is possible that a child could set up their own shell Facebook account to grant permission to themselves.
• Children can report or block contacts and report inappropriate content.
The bottom line? This is a welcome addition for any Facebook using family. It combines ease of use with powerful communication features, and no data plan is required.
No system is completely foolproof, and that it is possible for a child to create a fake account to grant permission to him/herself. Learn more at more information, visit http://messengerkids.com.
CAN TECHNOLOGY ENHANCE ADULT/CHILD RELATIONSHIPS?
We feel that Facebook's new Messenger Kids, the iOS app reviewed above,  gives families a new way to increase both the quality and quanity adult/child interactions. Should you be concerned about Facebook's sticky information collecting process, however? You decide.
In the meantime, these are some of the key points about adult/child/tech relationships from Chip's talk at Dust of Magic last month.
Technology can enhance relationships by:
• Inviting conversations (through texting, using publishing apps, or shared screen experiences).
• Creating a context for sharing, by turn taking or by providing a distinct role for each person. Chip reminds us that there's a good body of research that has concluded that more learning happens when experiences are used in a social setting, instead of in isolation.
• Creating opportunities for interactions that have "social contingency." (see Troseth et al, 2006); defined as when social partners share responses that are immediate, reliable, and accurate in content.
• Creating opportunities for co-viewing and adjacent viewing, which means other ways of sharing the screen experience. Adults might plan for when the screen is turned off, or involve themselves in the experience by asking questions like "tell me what's going on."
Finally Chip urged all adults to openly acknowledge the elephant in the room… that we all are absorbed by our own devices; and this attention can draw us away from our children.
ALSO IN THE NEWS:
"Steer clear of apps claiming to teach language to babies and toddlers, for example. Research clearly shows that kids learn language primarily from caregivers during social interactions, and screens can't trump real, human conversations." from "How to Choose Apps for Your Kids," NYTimes, https://nyti.ms/2ntYDyB
PLEASE have a happy holiday.
With warm wishes from all of us at CTR/CTREX